Customer's Cat Has Special Needs: A Case Study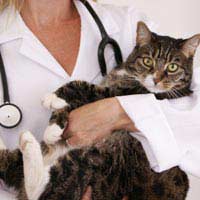 Max was ten years old, which for a normal cat is middle aged but certainly not geriatric. When Max was eighteen months old he had been hit by a car. He had managed to crawl home and Mrs W and her husband had rushed him to the vet. He was assessed overnight for internal damage but luckily all his organs were undamaged. His main injury was to his right front leg, it was beyond repair and the only option had been to amputate. After detailed discussion with the vet, as to how Max could manage with three legs, Mr and Mrs W decided to go ahead. Max had coped extremely well initially but as he aged problems had arisen. At the age of ten Max now had kidney problems which required a tablet twice a day, he had also developed arthritis in his rear legs. The vet wanted his weight reduced which would help with his mobility.
Finding a Suitable Cattery For Max
For the past eight years since Max had his accident Mr and Mrs W had only ever left him for long weekends. They had a very good neighbour who kindly looked after Max for these short breaks. Now Their daughter who lived in Canada was getting married,they wanted to fly to Canada to be with her. There was no question of them not going, but they also realised that they could not ask their neighbour to look after Max for such a long time. They needed to find the right cattery. After many phone conversations they had narrowed the choice down to two and had arranged visits.
Making the Final Choice
The first cattery Mrs W visited had pens overlooking a garden, there was ample room for Max to move around but to sleep he would need to climb a ladder to access the enclosed sleeping area. If he was unable to climb due to his arthritis he would be sleeping in more or less an open fronted area. The cattery owner was quite happy to administer the medication that Max needed for a small extra charge. His bed could be placed at ground level so that he had no need to climb but Mrs W was not entirely happy with those arrangements. The second cattery was more enclosed. It was light and bright and the cats could see each other but not touch. Once again the sleeping area was raised and accessed via a ladder. The cattery owner kindly agreed that the ladder could be removed but that would not stop Max from trying to jump onto the sleeping platform if he wanted to. An alternative was offered which was a much smaller enclosure, more of a large cage, but there were no ladders or high platforms to jump onto. The pen was not in the main cattery area but in the office. The size was a lot smaller but with Max's disability that should not present a problem. The cattery owner was happy to give Max his medication at no extra cost.
What Would Be Best For Max
Mr and Mrs W discussed the options available to them. Obviously the best possible option would be that Max could stay in his own home. As this was not possible, they had to make a decision and couldn't delay too long as the catteries would get fully booked. In the end they decided on the second cattery and the small cage option. The cattery owner assured them that Max would be taken from his pen at least twice a day and given some exercise in the main cattery area.
The Homecoming
During Mr and Mrs W's holiday they Email the cattery twice to enquire about Max and were assured that he was well. They could hardly wait to collect him and were happily surprised to see how well and happy he was. He had obviously been groomed regularly and his fur shone. A bonus was that he had lost weight, not because he had lost his appetite but because he had only been given his diet food and no treats. They were so impressed with the care Max had received that they started planning their next trip.
You might also like...