Dealing With Sickness When Running a Business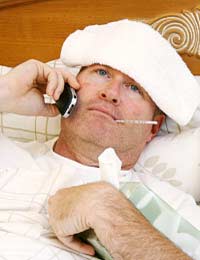 When you employ people in your boarding cattery, when anyone is sick it can put added pressure on yourself and any other staff.
To cover staff absence it would be advisable to train each member of your staff to perform all the necessary tasks for the efficient day to day running of your business.
There could be other reasons for absence apart from staff sickness absence, but hopefully you would have been given adequate notice and planned accordingly.
Do I Need a Sick Pay Scheme?
Most of your employees, because of the nature of the business, will be employed on a part time basis. You should always keep accurate staff records which will help you to keep track of the hours worked and time off for various reasons including sickness.
When you employ someone they are entitled to a written statement of employment after they have completed a 3 months probationary period. In the statement of employment you should make it clear what you expect your employee to do should they feel unable to attend work through sickness. They should let you know as soon as possible to enable you to cover their work.
You should also make it clear whether you pay for time off due to sickness. If you have people who will step in quickly to cover when a member of staff is ill, it will be a great help.
Insuring Against Staff Sickness
You should look into the possibility of insuring against staff sickness. Your insurance for your business will have a clause that will cover personal injury which you should make sure includes your staff. If they hurt themselves while at work, you need to make sure that you are covered for any claim that might be made against you.
Keeping the Job Open
When you are running a small business with limited staff it will always be difficult to manage when one or more of your staff are absent due to sickness. Employee rights to sickness absence are no different whether they work for a large organisation or a small one, so it is imperative that you obey the rules of employment.
You should look into the possibility of having staff absence insurance, so that financially you do not suffer when your staff are ill. It will be between you and the staff member to decide whether they will be able to return to work in a reasonable time. The nature of a boarding cattery means that you will always need to get staff to cover for those who are off sick.
Being Off Sick Yourself
Because of the responsibility of looking after other peoples pets it is always difficult to take time off. If you are really unwell and unable to look after the business, it is imperative that you have a responsible deputy to take over the day to day running of the cattery. This arrangement will suffice short term. You should make sure your insurance covers you for any long term interruption to your business due to your own inability to work.
You might also like...