Employing Family To Work in Your Cattery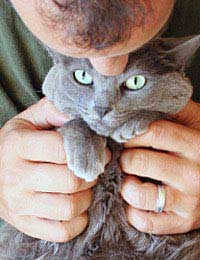 If you find you need help in the running of your boarding cattery business it could be worthwhile considering employing members of your own family.
Employing staff can be difficult, finding the right person is not always easy and members of your own family would be less likely to let you down at crucial times.
Advantages of Employing Family Members
If you are fortunate enough to have members of your family living close by, it would make sense to offer them the chance to work in your cattery. There are likely to be times when an emergency crops up that means you have to leave the business for a while, be it just for a morning, or for a longer period of.
It would give you tremendous peace of mind if you knew you could call on a member of your family to step in and help. They are more likely to be good workers for you rather than strangers might be.
Even if you do not need full time help it would be wise to train several members of your family in your daily routines. If you are ill at any time there is nothing like being able to call on your family and feel happy that they will know exactly what to do.
During your busiest months it would make sense to employ a member of your family who is perhaps at university and just at home during the holidays. A lot of young people would jump at the chance of working with animals and earning some money at the same time.
Disadvantages of Employing Family Members
It would depend on what relationship you have with any member of your family that you employ. You will always need to be the one in charge of whatever is happening on a daily basis in your cattery. Some members of your family could resent being told what to do. If you have any misunderstandings at work, these can spill over into your family life and involve other members of your family.
There is always a matter of pay to be considered, would you pay a member of your family the same rate as any other employee, or would you be expected to pay a higher rate. A lot depends on your own attitude to work and staff. It can be easy to treat working with animals in a cattery as a very pleasant occupation and not as a 'real' job, but at the end of the day it is your business and your living, you cannot afford to have anyone who does not pull their weight on your staff, or on your wage bill.
Can Children Work in the Cattery?
There is no reason why your children should not work in your cattery providing you abide by the rules and regulations regarding the employment of young persons. You could employ them as staff members during their school holidays, which would benefit you as well as them. Maybe one day they will take over the running of the cattery and the more they know about the work involved the better.
You might also like...