Promoting Through Word of Mouth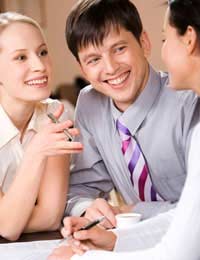 One of the easiest, and certainly the cheapest, ways of promoting your boarding cattery business is by word of mouth. Everyone you speak with, everyone you come into contact with is a potential client.
Even standing in a queue at the supermarket, you should take the opportunity to speak with whoever is in the queue with you, particularly if they have cat food in their trolley.
Hang around the cat food section for a few minutes and speak to anyone purchasing cat food. 'Isn't it hard to make a choice so much on offer, is your cat fussy?' You have a potential client talking to you.
Can Word of Mouth help Promote Your Business?
Everyone you speak to should be made aware that you own a boarding cattery. This word of mouth marketing can be a very strong tool. When cat owners are looking for a good cattery in which to leave their cat, they will feel much happier if they have a friend or colleague who recommends somewhere. If they have either used the cattery themselves for their cat, or they have a friend who has used you so much the better.
One person can potentially reach dozens of customers. If a client finds a boarding cattery that they are happy with, they will tell their family, friends, colleagues, in fact they will tell anyone they come into contact with who has a cat. You should always carry some business cards to give to anyone who shows even the slightest interest. Even if a person does not have a cat themselves they are bound to know someone who does.
Your Own Word of Mouth Promotion
Talk! You are your own best advertisement. You must get along well with your clients, if you have a good rapport with them, they are bound to trust you with their cats. Don't be afraid to boast, you are proud of your cattery, you are the best, let everyone know how good you are.
Invite clients to come and have a look around your cattery prior to booking their cat in for it's holiday. Let your clients see how interested you are in their cats. Listen! Let them tell you about their cats funny little ways, sympathise when they tell you how they feel guilty when leaving their cats when they are going off on their holidays.
Try to reassure them that you will take good care of their beloved pet as if it were your own. This is good marketing strategy. Be sure that you can live up to your promises. If you let anyone down, be sure that this will spread by word of mouth just as much as good publicity will.
Using Your Contacts
Think of all the contacts you have, your family, your friends. The checkout lady at the supermarket, the postman, the milkman, your dentist, your doctor, the vet you use for your own animals health as well as any vet you use in connection with the business. The list is endless, take time to speak with everyone you meet. Sometimes, you may feel pushed for time, in a hurry to get somewhere perhaps, but consider-a minute of your time may lead to dozens of new clients.
You might also like...