Consider Neighbouring Buildings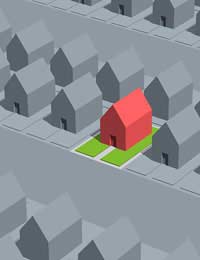 When you are considering opening a boarding cattery, neighbouring buildings and their occupants need to be taken into consideration. Depending on where your cattery business is to be located you could find different objections and problems to deal with.
The absolute ideal location would be somewhere rural with no buildings close by, but then, where would your potential clients come from. It is a fact of life that you will in all probability have neighbours and buildings close by to consider.
Cattery in a Built Up Area
In a built up area you are likely to have very close neighbours. There could be flats which overlook your site. The occupants of the flats might object to having their view changed. They might object on grounds of increased traffic (your clients arriving), they might object on grounds of noise (cats wailing) or they might object on the grounds of smell (or rather anticipated smell).
It will be up to you to communicate with the local community and try to put their minds at rest. If necessary be prepared to change your plans and take their opinions into account. It will be easier to alter your plans at an early stage rather than go ahead and alienate your neighbours before you even start your business.
In the suburbs the problems associated with building a cattery business can be just as daunting. The neighbouring houses will probably object on the same grounds as the town dwellers but they usually have a closer knit community and will put forward more objections. As mentioned already you should try to talk to your neighbours before submitting your plans.
Cattery in Rural Surroundings
If you are really fortunate and live in a location where there are no buildings in the immediate vicinity you will not have many objections to your plans, however, the council will send a notice of your plans to open a cattery to all owners of buildings around you. You could find you are facing objections from land owners who might be afraid that you are setting a precedence.
Locating a Boarding Cattery Near Industrial Buildings
One of the main problems of locating your cattery near industrial buildings would be the density of traffic. If there are large lorries and trailers using the buildings throughout the day it could be difficult for your clients to reach you. It could put many potential clients off.
A bonus of siting near an industrial location is that you should not be faced with so many objections, and at weekends (when most clients will deliver or pick up their cats) it will be very quiet. It will be essential for you to find out what the industrial buildings are used for. In some cases they could be manufacturing or storing substances that could be detrimental to the health of cats.
Buildings Located in a Semi-Rural Area
This is the best location for a cattery. In most semi-rural locations the houses are reasonably large with big gardens. Many of these houses will already have been converted from family homes into Care Homes for the elderly, community centres and similar. Although the same objections could be raised it should be relatively easy to win the owners round. A cattery can blend in very well in a semi-rural location and there should be plenty of potential clients.
You might also like...
Sez - Your Question:
I want to build a cattery but the bit we're I want to build on is arquiculture does anyone know how to get around this we live in the middle of nowhere down a lane and the council are saying no
---
Our Response:
If the council has refused planning permission and you want to appeal, it might be worth seeking support from a planning consultant. They will know if there's anything else you can do.
StartACattery
- 27-Apr-18 @ 11:26 AM
I want to build a cattery but the bit we're I want to build on is arquiculture does anyone know how to get around this we live in the middle of nowhere down a lane and the council are saying no
Sez
- 24-Apr-18 @ 5:33 PM
Hello I would like to start a cattery business in my back garden which has ample space for several pens. My house is in a residential area but the garden is very private and not overlooked. I have the knowledge and capacity to design and build the pens. Would I need planning permission from my local authority, what is the process? Many thanks
Night prowler
- 24-Apr-18 @ 3:19 PM
Hi I'm looking to start a cattery I have neighbours but the land I will use is not a back garden it is an extra bit of land at the back is there anything I need to do before I start Thank you Laura
Cats
- 3-Apr-17 @ 5:36 PM