Keep Business Competition in Mind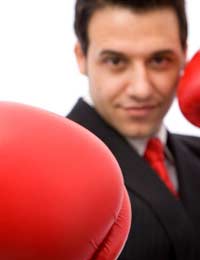 Business competition can actually be of benefit to a newly established cattery. To get an idea of the competition you will face in your new venture, you can visit all the local veterinary surgeries. The notice boards will normally have advertisements for local catteries and kennels.
Talk to the receptionists, they are a veritable mind of information. They cannot recommend a particular cattery to a client but if they get to know you and feel happy about your potential business venture, they will be able to put you on their list of catteries that they approve of.
You can also look through Thomson Local Directory and Yellow Pages. Look under Boarding Kennels as well as Catteries as many establishments cater for dogs as well as cats.
Becoming Friendly
Getting to know the owners of the catteries you may find yourself in business competition with is always a good idea. One of the benefits of business competition is that the more catteries in a particular area, all doing well, indicates a good client base. Cattery owners can be a good source of local information.
Most cattery owners will be happy to let you know just how busy they are and at what time of year they turn clients away. This can be valuable information as you could try to time your opening with the busiest time of year.
It is essential to discover what prices the competition are charging. This can vary considerably from establishment to establishment. Some catteries have outside areas for the cats while others will be completely enclosed and the prices will reflect these differences.
What each cattery offers in the way of extras is also important. Could you, for instance, offer grooming? Grooming could be a valuable skill to have, and to offer a service that your future competition may not have thought about would give you an advantage.
Just occasionally you may come across an owner of a cattery who is unpleasant and unhelpful to you. You can almost guarantee that this person is also unpleasant to her clients and has more to worry about competition than you have.
This may sound highly unlikely, but a pleasant manner with people is essential, you may be surprised to learn how many cat owners change their catteries because they don't like the owners. You can also assess how much knowledge they have about cats in general and make sure you know as much if not more.
Location
In a built up area where there are probably more cat owners than dog owners, the potential for clients looking for boarding spaces in the peak months of July and August is greatly increased. In a more rural setting a cattery every five miles or so is probably as much as that area can readily absorb.
Nevertheless it is always worth visiting as many catteries as you can in the vicinity as this will give you first hand knowledge of just how good or bad these catteries are and will help you in your final assessment of the business competition that you will be faced with.
You might also like...